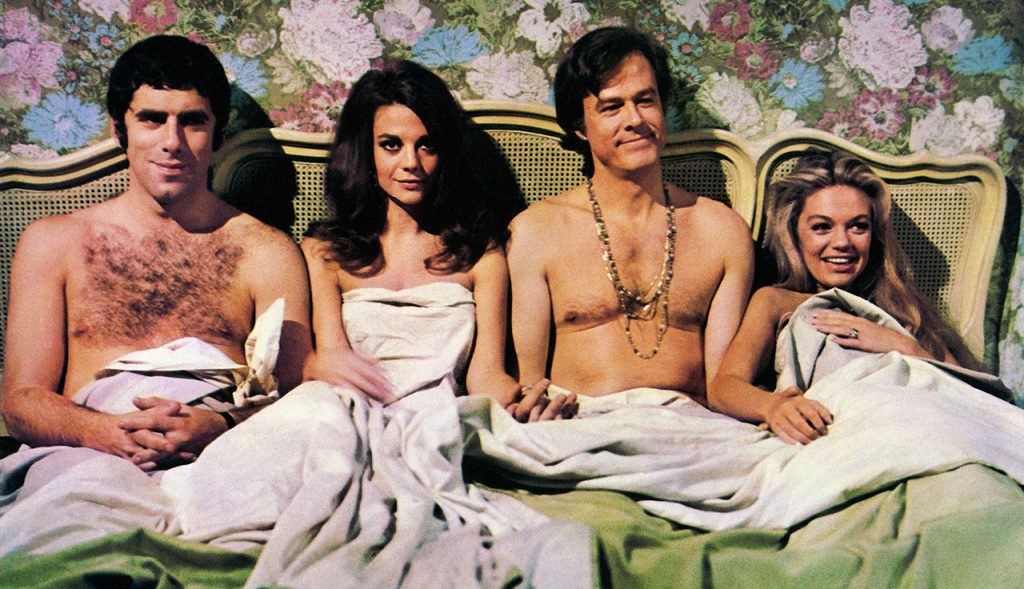 These swingers movies explore what happens when couples "experiment," pushing the limits with swapping, threesomes, swinging and more. We've collected the best of these sexy stories, from the infamous to a few new discoveries—as it turns out, unconventional sex makes for some pretty classic filmmaking.
So what so special in movies about swingers?
Movies about swingers offer a unique perspective on relationships, sexuality, and societal norms. They delve into the often-misunderstood world of swinging, providing insight into the motivations, experiences, and challenges faced by those who choose this lifestyle. These films often challenge conventional views on monogamy and fidelity, sparking thought-provoking discussions about love, trust, and desire. Whether they approach the subject with humor, drama, or raw honesty, swinger movies offer a fascinating exploration of a lifestyle that, while not mainstream, is a part of the diverse spectrum of human relationships.
The ultimate couple-swap movie, a story with every element of free love and sexual exploration you could ask for, all unfolding around two couples stunned by their new choices. With Natalie Wood, Robert Culp, Dyan Cannon and Eliot Gould.
The Ice Storm (1997), directed by Ang Lee:
This story delivers the perfect mix of suburban ennui and sexual tension. The keys in a bowl scene, below, is moviemaking perfection. Starring an ensemble cast including Kevin Kline, Joan Allen, Sigourney Weaver, Christina Ricci, Elijah Wood and Allison Janney.
The Overnight (2015), directed by Patrick Brice:
A modern take on sharing partners—sexy, funny and outrageous, while also somehow entirely believable. Adam Scott, Taylor Schilling, Adam Schwartzman and Judith Godrèche star.
Find out what happens when you combine a three-way couple situation (thruple to those in the know) with kidnapping and an international drug ring. Blake Lively is the damsel in distress, Benicio del Toro and Salma Hayak are a scary-but-hot drug lord and lady.
Laurel Canyon (2002), directed by Lisa Cholodenko:
When a straight-laced son brings his girlfriend home for a visit to his libertine mother, all kinds of sexual intrigue and partner shuffling ensues. With Frances McDormand, Christian Bale and Kate Beckinsale.
A couples retreat takes a very unexpected turn, with a super trippy plot twist that you've definitely never seen before. You could maybe call it group therapy? File under "it's complicated." Mark Duplass and Elizabeth Moss star.
Adore (2013), directed by Anne Fontaine:
Couple swapping of an entirely different kind, so racy it had to be on this list. Lifelong friends in an idyllic beach town throw convention to the winds and fall madly in love with each other's grown sons. Starring Naomi Watts and Robin Wright.
Drinking Buddies (2013), directed by Joe Swanberg:
Sexual tension simmers during a rustic getaway in the woods as the boundaries blur between two couples. Starring Olivia Wilde, Jake Johnson, Anna Kendrick, Ron Livingston and Jason Sudeikis.
A summer abroad in Spain becomes a simmering romantic entanglement when two young Americans get intimate with a charismatic local. Starring Scarlett Johanssen, Javier Bardem and Rebecca Hall.
Eyes Wide Shut (1999), directed by Stanley Kubrick:
Who doesn't love the kinky masked ball scene? Leave it to this auteur to take a sexually charged scenario to the absolute limit. Nicole Kidman and Tom Cruise starred, while they were still married (now that must've been interesting).
Other swingers movies
Of course, we picked up the so called modern classics. We know there are lots of other great movies about swingers and promise to cover all of them in future issues of this section.
Source: provokr